Week 1 is over. It started off very rough, but ended much better! I spent the week tweaking our schedule and making necessary adjustments. I'm a firm believer that there can be multiple ways to learn and I don't have to force one learning style or one method over the children. In fact, one of the beauties of homeschooling is allowing for different learning styles and having the flexibility to "go with the flow". I'm implementing a new schedule for next week. The biggest change is that we will start our day out right. Written into my schedule (because I'm a list person) is:
-group prayer
-recite Bible verse
-thankfulness (everyone writes down one thing they are thankful for)
If I allow myself to focus my eyes on God, directing the kids' eyes to God, and spending a few minutes remembering what
really
is important in life I can guarantee my day will go better.
Instead of having daily worksheets to complete, we are going to try to have two days that are more sit down and learn and two days that we do more hands on, verbal learning. We'll still learn, but in a different approach. I'm definitely looking forward to seeing if that approach works better. I also decided to hold off on History until January. We'll spend the fall semester doing Science.
Some of what we learned
Number flashcards
Beaded math counter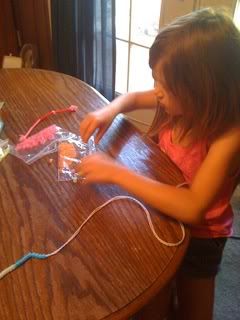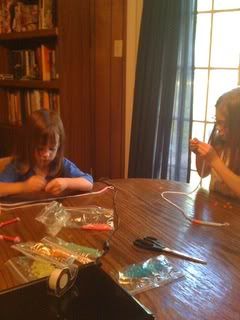 One to One
AJ's math was all about one to one correspondence so she glued pictures of food to a little reader that has numbers in it.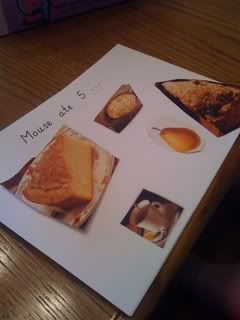 Handwriting/Spelling OUTSIDE!!!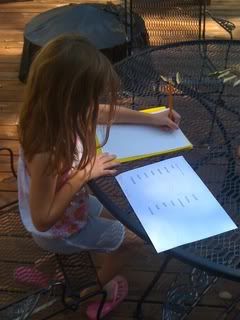 We needed a change of pace so on Thursday we spent FIVE hours outside at the park. In Science we had been talking about classifying animals and plants, discussing Kingdoms and some Phylums, invertebrates and vertebrates, etc... We learned about exoskeletons and types of plants/trees in our state. It was the one subject that went great all week too! We ended up doing a bug hunt while at the park, caught minnows in the little stream, and added daily to our Science notebook. Mistic and Faith taped different leaves into their notebook, as well as wrote descriptions about what they had learned. AJ's Science lesson was on muscles, skin, and bones so her entry on Thursday had her drawing pictures of things she touched with her skin (which was the grasshopper and moth she caught and the fish that Mistic caught). She also included in her picture what the weather was like (sunny and slightly windy). It was a cute entry.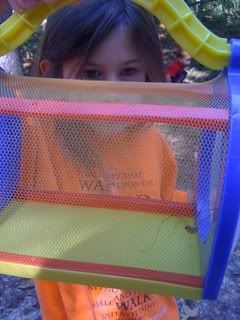 No animals were hurt during our hunt, all were catch and release!

Our preschool lesson this week included A, 1, and squares. Our theme was: cows
Isaiah enjoyed using SQUARES to make a COW today!!!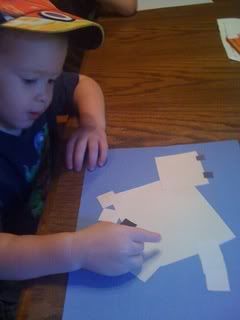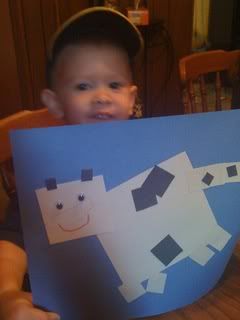 Things that we read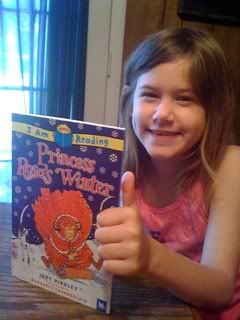 -different cow book each day
-The Bug in the Jug wants a Hug *Faith read this aloud daily
-Three Billy Goats Gruff *AJ's Language Art lesson was centered around this
-Mercy Watson to the Rescue *Mistic's LA lesson
-Bed in Summer (poem) *Faith's LA lesson