Today went MUCH better than last Monday did! There's still some need for improvement, but nobody cried today! Isaiah learned about the letter B while AJ learned the sound B made. The preschool theme for the week is
jungle
so we read
A Zebra's World
. While the zebra might not fit the jungle theme 100%, it came close. The concept was there anyway!
With the girls, we concentrated mainly on their Language Art lesson. Mistic's was centered around a poem,
Smart
. She also learned about synonyms. Faith's lesson was about "Where the Wild Things Are". Thanks to
Lesson Pathways
for the awesome outline for these lessons!!! Faith absolutely loved this YouTube video that read her the story. She can't wait until Wednesday when she'll have her dad listen to it!!!
One cool thing about this lesson is that it included a recipe for a Jungle Smoothie. Faith and her daddy made them for us to have with lunch. It was really yummy!!!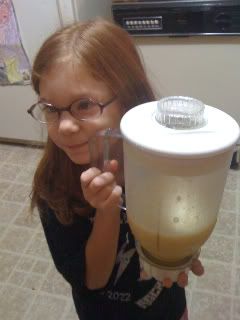 AJ's lesson was about Sebastian's Roller Skates. She, too, had a video read-a-loud video that was included in her LP lesson!
While one was working on their LA lesson, the others were working on spelling words or math worksheets.
Lunch was a fun project... Tortilla shell pizzas!!! Counting the pepperonis while we added them was a great math time!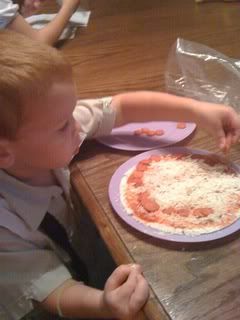 We finished before lunch, so the girls and I hit home-school storytime at the local library.