When we first started school 4 weeks ago, AJ was very apprehensive about it. She had her moments of being excited, but for the most part she could care less. Her favorite word lately is BORING, and that's exactly what she thought Kindergarten would be. I think I'm proving her wrong! She's really loving our study on our senses, especially when she gets to add things to her Science notebook.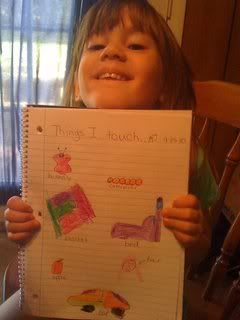 Her Language Art lesson was centered around "My Shadow" by Robert Louis Stevenson
Part of the lesson she got to watch hand shadows!
She loves counting by 5s to 100, she walks around the house going 5, 10, 15, 20... She's actually reading short stories. Words like as, one, two, three, can, up, run, is, blue, I, and a are just a few that she can easily read. She can sound out anything and we are working on other sight words!
I'm very glad we decided to start her in Kindergarten and not wait a whole other year like the State said we had to. She turns 5 at the end of October and can add with the best of them, knows all her numbers and sounds, count by 1's to 100, skip count by 5's, count backwards from 20, and has really neat hand-writing for only being 4! I'm still working on the handwriting with my 1st grader! Who knows what all she'll know at the end of the school year!