Week 2 was DEFINITELY much better than week 1! We might just make it after all! We started the week off with our Language Art lessons. Mistic's was about the poem Smart. It was a good poem about how a boy was given a dollar but then through the process of exchanging it ended up with only $.05. We had a worksheet to work so we were able to talk about money. Faith's was about Where the Wild Things Are. As I stated in an earlier post, that was a hit! I really can't say enough about Lesson Pathways because without them I'd be really struggling with putting a curriculum together with NO money! The kids are still talking about the smoothie that Faith made that day! AJ's was about Sebastian's Roller Skates and to wrap up the week about that we made a cake!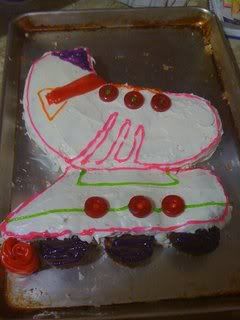 In Science, AJ got the first lesson on her senses... The sense of sight. It rained today so we were able to continue that "theme" and talk about what all senses we use with rain. We can SEE it, we can HEAR it, we can FEEL it, and we can TASTE it. The kids determined that they could not SMELL it though! I couldn't really argue. I know people sometimes say that they SMELL rain, but is it REALLY rain they are smelling or are they smelling something else that makes them think of rain???

In math, Mistic has been learning how to spell numbers... That will be a continual lesson. Faith worked on comparing numbers (greater than, equal, or less than) and AJ worked more on numbers and some basic addition.

Isaiah learned about the letter B, the color green, and the number 2.

We seemed to enjoy having two days this week where we did more paper work and the other two being computer work, hands on, or verbal. The kids are adjusting to being home and realize that we can LEARN in many different ways- and at many different times of day.

Tomorrow we'll write in our journal about the week we've had, work on our spelling words, and maybe do a few math worksheets. Other than that we're going to enjoy our weekend!!! Maybe we'll go skating on Saturday! That'd be a fun way to end the week!

Our memory verse this week: "In everything you do, stay away from complaining and arguing." Philippians 2:14

I am blessed to have 4 wonderful children. I am blessed to have a husband who wants me to homeschool. I am blessed to have a Heavenly Father who enables me to teach His gifts to me!