This week has been an odd sort of week. We didn't do school on Monday because the weekend wore us out and we knew we were taking off just a few days later. Tuesday and Wednesday was less paper and more on the goal learning. Honestly, that's probably been a good thing, but hard to record and VISUALLY see what we have learned! Today was the first day of our trip to Colorado. We left Arkansas early this morning and traveled through Oklahoma before stopping in Kansas for the night. I printed out state information for each state that we travel through, checked out some books on each state from the library, and printed a coloring sheet for each state flag. Like I said, a slightly different learning/teaching style, but we might find that this is a good thing. We had a great day, so proud of the kids! I think tomorrow we will incorporate some reading and journaling while we complete our journey to Colorado. We also need to continue working on our skip counting (2's, 3's and 4's is the goal). I don't anticipate updating the blog until next week, but here are a few pictures of our journey so far.
Can you guess what state we're in???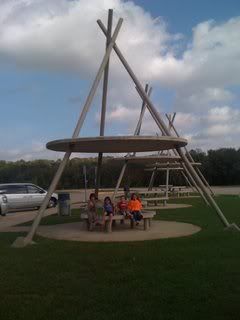 He really liked the books I found from the library that had the little flaps with hidden pictures! Plus it was tractor/truck books so a DOUBLE plus!!!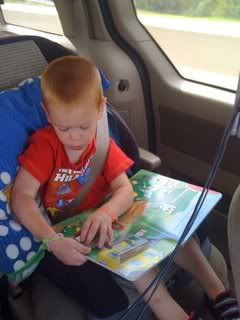 I can't remember where I found this idea, but magnetic alphabet letters ($1) plus cookie sheet equals LOTS of fun!!! Isaiah just liked playing with the letters and AJ enjoyed putting them in ABC order. I plan on using it for spelling at some point on our trip, but for now that was good enough!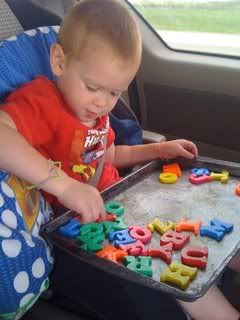 Pipe cleaners are also another CHEAP travel toy! I cut them in various sizes (again, found this while searching for traveling entertainment on the internet). The plan was for the kids to make different things, but *I* ended up making the people and robots!!! lol Oh well!
Until next time...