Our memory verse for this week has been "Let your conversation be full of grace, seasoned with salt, so that you may know how to answer everyone." Col. 4:6 This has been a tough verse for me, but a good one for our family. Too often we answer someone according to the way they talked to us. But this verse clearly tells us that we need to have grace in our conversation and grace is something that is undeserved. I was thankful for the opportunity to talk about grace with my children, the grace that God gave to us by sending His son to die on the cross. That grace was undeserved for a sinner like ourselves, but God gave it anyway. So the lesson that was tied to this verse? Always talk to others with grace, even if they don't deserve it.

Wednesday: We went for a fall family walk Tuesday night and collected a bunch of acorns and leaves. So for math we used the acorns to our advantage. First of all, each child collected a ziploc bag of acorns. We dumped them out individually and counted them. AJ, my Kindergartner, counted to over 200 with little help! For Faith, my 1st grader, we decided to put her pile in groups of 5's and count them that way.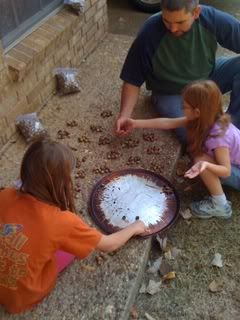 Mistic, the 2nd grader, decided that she'd put hers in groups of 10! After counting them, we shifted our topic to the area and perimeter of things. We lined the perimeter of construction paper with acorns, and then filled in the area with them!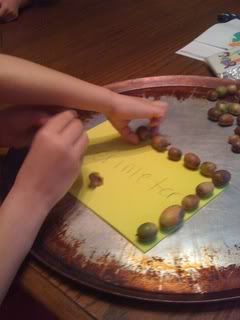 Our vocabulary word for the day was foliage. Our poem by Robert Frost was In Hardwood Groves.

We colored over leaves and did other fall themed worksheets!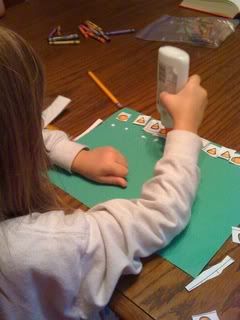 Making patterns!

Thursday: We talked about time- specifically AM/PM- during math. We discussed the difference in sunlight during the fall versus the summer and then we talked about fractions.

Our poem was The Road Not Taken and our vocabulary word was gourd. We read some books about pumpkins, one including the seed to full grown pumpkin cycle. It was perfect timing for our trip to the pumpkin patch on Saturday.

For our Language Arts, we talked about nouns and verbs. After writing in their journal I had Faith and Mistic circle or underline the nouns and verbs.

We utilized technology and watched a You Tube video about Autumn:


But the real highlight of the day? Homemade, pumpkin pie scented playdough!!!



Friday: YAY! The weekend is here!!! We were done with school for the day/week by 10am!!! WOOHOO!!! Gotta love that aspect of homeschooling! We did a little review, talked about our vocabulary word: hibernation, read our last poem by Robert Frost, A Late Walk, and made sugar cookies! We made the dough yesterday, when we talked about fractions, and had them refrigerate overnight so we could roll them out today!


Since we got done early, the kids have been free to do whatever they want... Including color for fun!!! I love homeschooling!