Where do I even begin? The move was uneventful, and now, a week later most of the boxes are unpacked. There are just a few left to go through and I'm in no hurry for those!
I'm glad that I decided to take off a bit before continuing to homeschool. We needed this break. It also allows me to get my "school room" set up (Yep! I'll have a designated school area! WOOHOO!!!) Meanwhile, we've been settling in.
We were greeted to the area with SNOW! It totally made our day. A week later most of the snow has melted, but you still see white in places. Kind of neat experiencing a different climate. We were well prepared!
Modeling the new winter look!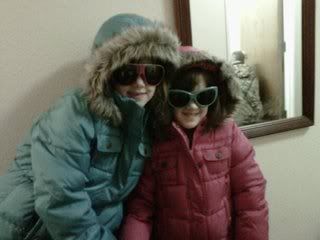 One of the first things the girls and I did was check out the local library. The plus side? We actually have a library! The down side? There is only about 12,000 books in the ENTIRE library!!! You don't even need ID or any proof to check anything out! It is a ONE ROOM library! That was quite the shock for me!!!
Of course, another thing that is shocking to us is the grocery situation. Yes, the town has a small overpriced grocery store, but the nearest Supercenter Wal-Mart or Sams or mall or SONIC is 2 hours away! We loaded up the van Tuesday morning and drove the two hours to stock up on groceries for the month. We hit Sonic (OF COURSE!!!) and then proceeded to shop until we dropped! The good news is that I spent considerably less buying all at once and in bulk, but it was quite the day! We left our house around 8am and didn't get back home until 5:30pm. I found a health food store that I'm happy with and I'm presuming future shopping trips should be less stressful.
One of the first things we did was get the house ready for Christmas. We got a real Christmas tree (a FIRST for the kids!) and I have been playing around with my decorating skills... Cinnamon pine cones are a new fave of mine!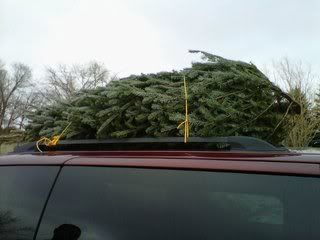 Today we walked to our post office and bank. Round trip it took us a mile and a half! LOL What a shock to see only about 800 PO Boxes too (you don't have house delivery around here... no mail boxes, only PO boxes!) It's going to take some getting use to the small town. I've also been enjoying my groceries... We had roasted chicken, homemade mac-n-cheese (no Velveeta!), and corn... The leftover mac-n-cheese I turned into homemade hamburger helper (by adding ground beef) for lunch tomorrow AND the leftover chicken (bones and all!) is in the process of becoming chicken broth for veggie soup! I am totally loving this!!!
All in all, our first week hasn't been bad and I look forward to future weeks. The mission stuff will be getting under way soon and we'll begin our new homeschooling adventure next year!