This week went
so
much better! The more relaxed style was a hit. AJ and Faith had most of their independent work completed by Monday evening (they worked on some of it Sunday afternoon). Mistic dragged her feet a bit, but once she realized that her sisters were done she kicked it into high gear. We completed a full week's worth of school by Thursday afternoon. You know what that meant?
3 day weekend!!!
OH YEAH! We accomplished a lot!
Mistic:
We worked diligently on 3 digit addition and subtraction problems. By the end of the week she had a good grasp on it and was allowed to use her calculator on some of her problems. Thank goodness for
Skype
because one day Uncle David (who lives in Arkansas) even helped her with math! She's also been reading in her ABeka reader.
She even has Bible reading for school.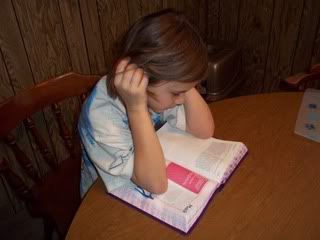 A special mommy and me project was baking! We got to count it for school because she was reading (the cookbook), doing math (dealing with fractions, temperatures, etc), and learning about health (nutritional values). We baked a recipe found in
The Pioneer Woman
's cookbook! Let me just tell you, the French Breakfast Puffs are WONDERFULLY SCRUMPTIOUS! And the recipe is simple enough that my 7 year old can follow!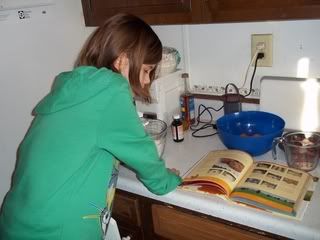 And while she had a great time baking the puffs, dipping them in butter and cinnamon sugar was her FAVORITE part!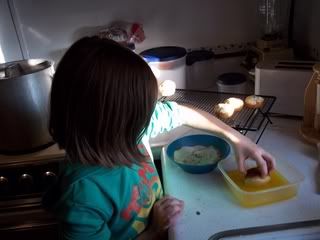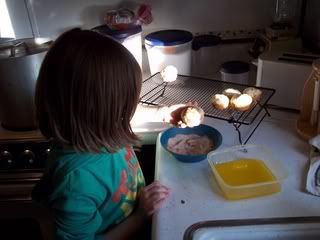 Faith:
We concentrated greatly on reading this week. She did letter writing and wrote sight words and thank you letters, but she also read in her ABeka reader and worked hard on phonics. We really grasped the concept of long vowels this week! YAY!!! Her reading fluency is getting better as well.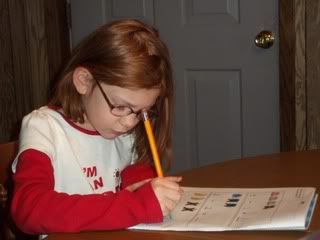 Her special mommy and me task was to make some
homemade chocolate syrup
. This stuff is GREAT! Tastes just like the store-bought stuff- they especially love to make chocolate milk using it!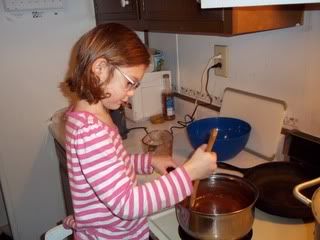 Aspen:
She too did letter writing and phonics work. We've been introducing blends and she had a very introductory lesson on the sounds vowels make (long and short). She worked at identifying missing numbers and connecting dots in A-Z order. She read to her special reading buddy, Daddy. Her mommy and me project was to make some
homemade all purpose cleaner
. I use the base recipe and then add some tea tree oil and other essential oils for their anti-bacterial purposes. AJ helped me decide what to put in there, so we added some sweet orange and eucalyptus oils. She was anti-camera this week, so I don't have any pictures of her sitting and learning.
Together we learned all about money. We learned the values of the coins, how to write them, and a little bit of History. We focused on which president was on which coin and learned about what was on the back of them. That was a fascinating time for mommy! I love it when I learn stuff too! In History we've been learning about the New World, how many continents there are, how many oceans there are, Virginia Dare, John Smith and Pocahontas *the girls were
amazed
that she was real and not just a Disney fictional character*, and the start of Jamestown and Plymouth! Again, it was an awesome time for mommy because she really enjoys History!
The weather's been frightfully cold (at least for this southern girl) so we've been trying to keep active inside. We've been using our Wii daily- playing either Wii Fit or Just Dance!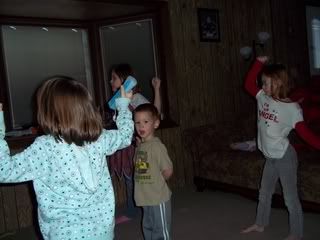 Even daddy gets in on the action!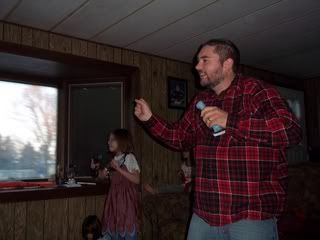 Another cool thing with the Wii is the ability to connect
Netflix
through it! We even watched a National Geographical show on Tigers and the Snow! And it counted for school! It was great family learning time!
So yep, week two was AWESOME! I hope week three is just as good! I'm off to enjoy my three day weekend!