Being "rural" has definitely been a learning adventure for us over the last 8 months. WE LOVE IT! We didn't realize just how much we loved it until we went back to Arkansas for a visit. We missed our simple life. I've spent the summer reading different blogs and gathering different tips and ideas. Any time I found something I liked, I simply copied it and put it in Word format. I saved it and was able to read it after we got back from our trip.
One thing that I'm starting is making a calendar with our menus. I've always been a planner and easily plan my menus for a week or two, but it seemed challenging to come up with different food ideas. What I've done is open up my Microsoft Works Calender and designated certains days for certain types of food. We are trying to eliminate most of our eating out and Sundays are the one day that we are most tempted to go grab a pizza. I started there, Sundays will be our sandwich days. I don't like to eat the same thing
all
the time so I've been coming up with different sandwich ideas. A few are BLTs, grilled cheese, French Dip. As I come up with different sandwich ideas I'll simply add them to my calendar. I really like doing the meatless Mondays, so that's been designated. It makes planning so much easier. A few ideas have been black bean and corn quesadillas, red beans and rice, bean and cheese enchiladas. Starting in September, Tuesday nights will be a mix of girl scouts, ladies' Bible study, and men's Bible study. These alternate weeks and some happen on the same night. Breakfast for Dinner won that slot! It's a pretty easy meal- omelets and pancakes; eggs, bacon, and biscuits; or even a breakfast casserole. Wednesday nights are church night so what better night to incorporate the slow cooker?! Lasagna, Chicken Enchilada Soup, and roast. Thursday nights the hubby has a meeting, but it's later so we aren't as pressed for time. So Thursdays and Saturdays have no theme. These are the nights that ANYTHING goes- maybe it's homemade chicken nuggets, grilled foods, jambalya, or baked ziti! Friday nights I plan on going grocery shopping. We won't "eat out" but we will probably pick up something from the store- it may be a TV dinner or something to cook when we get home.
I really feel that this will help. It will allow me to see items that are coming up weeks in advance. I'll be able to purchase some of my meats when they are on sale, instead of relying on the week I need them to be purchased.
I also plan on doing some prep work. I don't want to rely on Tony's Pizza for my kids lunches, so I will make some pizza crust and freeze them. We'll resume our bread making. I plan on browning some ground beef and freezing them in 2lb bags so I can just take it out and thaw them for a quick sloppy joe or chili. Same thing with beans- I prefer to do dry beans, but sometimes it can be challenging to soak and cook before you need them. I will, instead, do some prep work and freeze!
I've linked up at the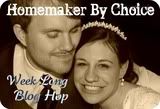 and the