It starts when you're pregnant and so far, after 9 years, I'm not seeing any changes...

Weary.

Tired.

Drained.

Fatigued.

Pooped.

Done In.

Depleted.

Exhausted.

What one wouldn't give for just an "all you can sleep" buffet.

When put that way, parenting doesn't really sound worthwhile, does it?


"Lo, children are an heritage of the Lord: and the fruit of the womb is his reward. As arrows are in the hand of a mighty man; so are children of the youth. Happy is the man that hath his quiver full of them: they shall be ashamed, but they shall speak with the enemies in the gate." Psalm 127:3-5


Thank goodness, that is not true though! Thank you, God, for the children you've given ME and MY HUSBAND! Read that verse again, my tired, weary friend! Children are an heritage of the Lord. The fruit of the womb is his reward! Yep, definitely sounds like children are a blessing!

However, that doesn't change the done in feeling parents get.

What happens when you get to that point to where you just can't give any more?

Give it to the Lord!


"The Lord also will be a refuge for the oppressed, a refuge in times of trouble." Psalm 9:9
"Come unto me, all ye that labour and are heavy laden, and I will give you rest." Matthew 11:28
"But they that wait upon the Lord shall renew their strength; the shall mount up with wings as eagles; they shall run, and not be weary; and they shall walk, and not faint." Isaiah 40:31

The Lord knows how weary we can get. I don't think I've had a solid night's sleep once in the last 9 years. Even when the children are sleeping at grandparents, I wake up. Force of habit, I suppose. There are mornings that I would give just about anything for one more hour's rest. Some nights feel like I don't sleep at all.

We become weary because of teething infants, we become exhausted from directing children all day (over and over and over), we become tired from worrying over our parenting skills (or lack of), we become depleted after day in and day out of constantly giving, but we aren't alone.

The Lord has promised strength and renewal to us.

A renewed spirit to become a stronger parent for the Lord.

A renewed desire to lead and direct our children.

A renewed hope that we can do this (because God is with us!).


How do you handle the exhaustion that comes from being a parent?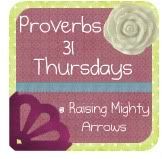 >