Continuing my series on "How Do You Do It?"


Missionary's wife. Pastor's wife. Youth pastor's wife. Deacon's wife. In many, many ways, they are all the same. Sure, maybe some of your responsibilities or expectations are different, but in the end... we're all living life in the fishbowl.

"And the Lord God said, It is not good that the man should be alone; I will make him an help meet for him." Genesis 2:18

And just like that, God created woman. To be the man's help meet. Created from the rib so that they could come along side their husbands.

In a "normal" marriage, that task is daunting enough.

In a "ministry" marriage, that task is down right frightening!

We don't see anything directed specifically to a pastor's wife or a missionary's wife, but we do see things directed to a "bishop" in 1 Timothy. These are definitely directed to the man, but if you take a closer look at them it appears that we play a big role.

Husband of one wife- Let's think about this, ladies. We get mad, decide our marriage isn't worth it, we leave our husbands over something that we chose to make an issue of... In many aspects of ministry, this could end their ministry position. The Proverbs 31 woman is a role that we would do well to work - daily - on.

One that ruleth well his own house, having his children in subjection- Here's another one... Don't even get me started on the move that females made in the 70's. The desire to be more equal with men (though, Biblically, that isn't even right!), the desire to not submit. Oh, and what about the part where his children need to be in subjection? Mom's do a lot of the child rearing, especially when Dad is in the ministry. Who sits in the pew with them week after week, teaching them to sit still, to be respectful, all the while Dad is preaching from the pulpit.

I'm not saying that the Bible got it wrong, but I am saying that we play a big role in making sure that our husband's are able to do their part in the ministry.

Just like in my last post, How Do You Do It? Being a SAHM, I pointed out that Mom wears a lot of hats.


Guess what? If you're a wife to a man in the ministry, you can add more hats to your collection!

Pianist, Organist, Song Leader, Sunday School teacher, secretary, treasurer, counselor, nursery worker, hostess, event coordinator, youth director, ladies' ministry leader...

Wow!

Now I realize that each woman in ministry may have all of those, none of those, or more of those hats to wear... The above are ones that I currently have because my husband is a missionary. When he was pastoring established churches, my hats were fewer.

So.... How do I do it?

Living in a glass house, so to speak, is challenging. My every move has been analyzed before. Every time I rolled my eyes, laughed, wore a certain shirt, or got flustered. How I handled my children and how I spoke to my husband has been critiqued.

Sometimes they were right. Sometimes they weren't.

Everyone has an opinion on the "right" way to handle your children, the "right" way to react to a situation, but if you're the pastor's wife it seems that people feel they have the right to judge you and verbally address your faults.

How do you handle it?

I speak from experience, so believe me when I say, keep an arm's length to all your friends. Be extremely careful about getting too close to those in your church. When things are going great and your husband is preaching on things that everyone loves, things are great! But what happens when your husband preaches or teaches something that causes a ripple amongst the church members, or should I say when God reveals something that causes a ripple amongst the church members. Guess who comes under fire then... You. Your husband. Your family.

Women desire relationships though.



Find a woman you can trust, like an older woman in the ministry. One who's been in the ministry for a while. Go out and enjoy a girl's night out with those ladies' around you, but keep the talk about how stressful ministry is or how difficult it is for someone who knows.

It's okay to say NO. Just make sure that you're not saying no to something God wants from you.

Be his helpmeet. It's tough for us living with a man in the ministry, but it's even tougher for him. Be his helpmeet. At home. And at church.

Accept that you aren't perfect, but that you are fearfully and wonderfully made!


Do not let those who are out to hurt you get you down! It's a hard lesson to learn, and sometimes it's a lesson that you learn over and over. Stop and ask yourself if the issue is something found in Scripture, in God's word. If not, forget about it! I'm serious... I have had people have "issues" with what I wear- and by that I mean, a shirt- a regular t-shirt- that I wore often. Apparently, I shouldn't have worn it so much! If it doesn't bother God, it shouldn't bother you!


When things get tough and people start judging me, I run to my Father for refuge. When I feel that I just can't do it anymore, I have nothing left to give to my Sunday School students or the ladies' I minister to, I turn to Him for strength.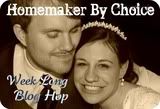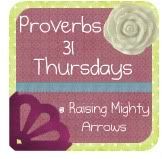 >